Entrance sessions on the redistribution of the city continue | Local News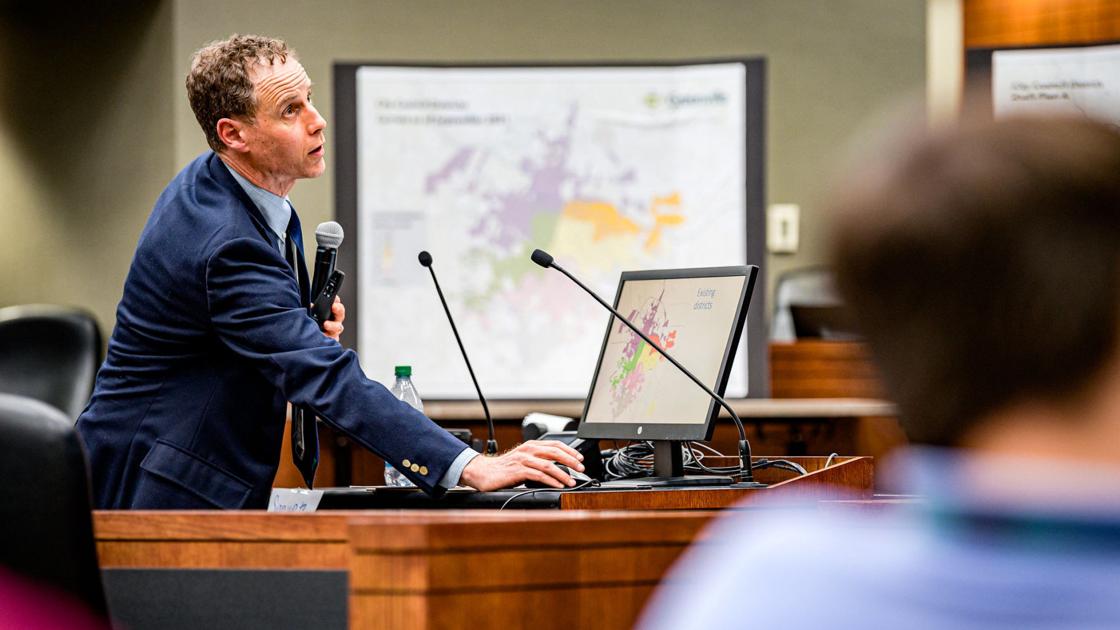 A midday public consultation session on Greenville City Council's redistribution proposals only brought out two people on Wednesday, but they shared concerns about the accuracy of the 2020 census count.
Wednesday's meeting was the second of three contribution sessions the city is holding ahead of a formal public hearing next month on three recommended options to adjust the boundaries of the city's five electoral districts.
Elected bodies with districts review and adjust boundaries after the decennial census to ensure that each has an equal number of residents. It guarantees the "one person, one vote" principle. This year's redistribution efforts have a shortened timeline due to COVID-19-related delays in releasing census data.
With the U.S. Census showing the population of Greenville at 87,520, the five Greenville City Council districts are expected to have 17,504 residents each. The process allows 5 percent variation above or below the target number.
With this target, Districts 2 and 5 exceeded 15% and 22% of the target population, respectively, while Districts 3 and 4 were 19 and 16% below the population, respectively.
District 1 was 2 percent below target, placing it within the allowed variation.
Helen Johnson and Isabelle Wicker, residents of the Quail Ridge neighborhood in District 4, did not speak at the public consultation session but submitted written comments. After the meeting, they shared their concerns about the accuracy of the city's population figures.
"I know a lot of people didn't complete the census for a number of reasons; because of the pandemic, it was not a priority for some people, "said Johnson, a representative of the Citizens Advocating for Racial Justice, Equality, Economic Development and Education group.
"I think at this point there shouldn't be a lot of changes to keep it fair for everyone," Johnson said.
"They really don't really represent Greenville," Wicker said. "I don't think they need to make a lot of changes in the boundaries. They need to leave them as much as possible as they are so that we can make sure we have equal representation. "
"We share concerns about the census figures and are in the early stages of analyzing the data we have," said Brock Letchworth, city communications director. "It is really too early to comment on any type of appeals process as we do not yet know all the details on how to proceed. "
Johnson and Wicker said they preferred the proposal identified as Option B.
Demographer Blake Esselstyn said Option B does the best job of preserving the shape of existing neighborhoods and strives to use landmarks as boundaries. It has the most divided neighborhoods, two of which are spread across three districts.
Option C is the largest deviation from the current district boundaries, but creates more compact boundaries and a geographic balance of the population, Esselstyne. While only one ward would be divided, the proposal places current council members Rose Glover, Monica Daniels and Will Bell in District 1.
Esselstyn said Option A is a hybrid that maintains central neighborhoods while accommodating future population growth in certain neighborhoods and creating "recognizable and descriptive" boundaries.
A final public consultation session will be held from 4 p.m. to 6 p.m. on October 6 at City Hall, 200 W. Fifth St.
Copies of the current map of the district and the three options, as well as data on the racial and ethnic makeup of the proposed districts are available at www.greenvillenc.gov.
Cards and comment cards have also been placed in the following locations:
Town Hall, 200 West Fifth St.
Sheppard Memorial Library, 530 Evans Street
Sheppard East Branch Library, 2000 Cedar Lane.
Sheppard Carver Branch Library, 614 West 14th Ave.
Moyewood Community Center, 1710 West Third St.
Drew Steele Center, 1058 South Elm St.
Eppes Leisure Center, 400 Nash Street.
South Greenville Recreation Center, 851 Howell St.