Nepal Airlines will sell Chinese planes if no one wants to lease them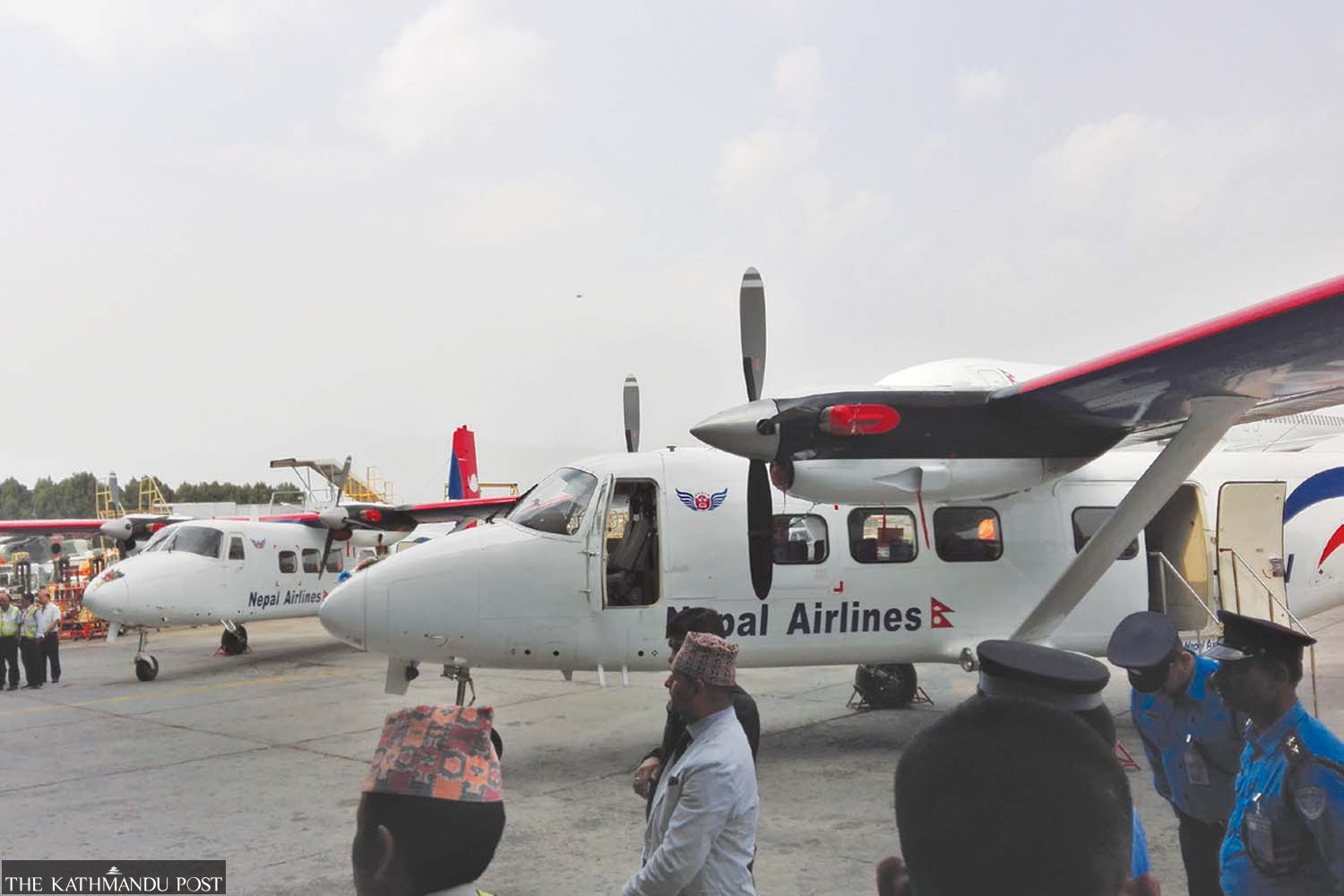 Eight years after acquiring a batch of Chinese planes it hoped would fly over underserved mountain routes, Nepal Airlines has finally decided it doesn't want the albatross around its neck anymore.
With the exception of operating services to a few airports in the Tarai plains, these planes spent more time on the ground than in the air, and they were becoming a financial stress on the debt-ridden national flag carrier.
Chinese planes have been grounded for more than two years. On September 14, Nepal Airlines issued a notice to lease them.
The five condemned planes – three 17-seat Y12e planes and two 56-seat MA60 planes – are parked in the remote parking spot on the east side of Tribhuvan International Airport in Kathmandu. Another crashed in Nepalgunj and cannot fly.
"This is a dry lease notice," said Archana Khadka, spokeswoman for Nepal Airlines.
Under a bareboat charter, the owner will supply the aircraft only, with no crew or ground crew.
"We followed the instructions from the Ministry of Finance," Khadka said. Out of the two options recommended by the Ministry of Finance – charter without hull or outright sale – Nepal Airlines will try the first," she said.
"If there are no takers, we will go for the second option."
The deadline for tenders set by Nepal Airlines is 31 October. Some senior Nepal Airlines officials say they don't expect to see potential tenants.
Besides maintenance problems and lack of spare parts, Nepal Airlines could not find pilots to fly the plane, and there was no longer any sense in keeping them.
In November 2012, Nepal Airlines signed a commercial agreement with the Aviation Industry Corporation of China (AVIC), a Chinese government enterprise, for the acquisition of six aircraft – two 56-seat MA60s and four 17-seat Y12s.
As part of the deal, China provided grants and concessional loans worth 408 million Chinese yuan (6.67 billion rupees) to buy the six planes.
Of the total aid money, a grant worth 180 million yuan (2.94 billion rupees) was used to pay for one MA60 aircraft and one Y12e aircraft; and a loan worth 228 million yuan (3.72 billion rupees) was used to purchase one MA60 aircraft and three Y12e aircraft.
Delivery of the rest of the Chinese planes was stalled for years after problems emerged in the first batch of planes that arrived in 2014.
These problems included lack of pilots, lack of instructor pilots, lack of spare parts, and lack of trained engineers to service them.
The second batch of MA60 and Y12e aircraft, under the six-aircraft deal between Nepal and China, arrived in January 2017.
The company received the last two Y12e aircraft in February 2018.
Nepal Airlines has repeatedly said that the Chinese-made planes have been causing heavy losses since their acquisition and that it wants to get rid of them to avoid further losses.
The Ministry of Finance owns the planes and Nepal Airlines is the operator. The ministry gave the green signal to Nepal Airlines to lease or sell the planes in March 2021.
In July 2020, the board of directors of Nepal Airlines unanimously decided to stop flying the Chinese planes.
Five months after the decision, in December 2020, the national airline submitted four options to its parent ministry – the Ministry of Civil Aviation – to get rid of the six inefficient Chinese planes from its fleet.
The Ministry of Finance had proposed several options: ask the aircraft manufacturers to buy back the planes by assessing their current value; leasing aircraft long or short term; Auction the planes through a global bidding process, or seek out Chinese or international companies or banks interested in buying or leasing them.
"Without a doubt, airplanes can fly. It was a management problem that the shiny new planes never flew for the purpose they were brought in," said Ashok Pokhrel, former board member of Nepal Airlines.
"Now, years after they've been acquired, it's wise to sell them rather than store them," he said. "If planes start to rust, they will become scrap metal."
Photos of the plane obtained by the Post show that the rear part of the Y12e is covered in foam. Corrosion appears on metal surfaces and aircraft components.
"These planes are susceptible to corrosion," an unnamed Nepal Airlines senior captain told The Post recently.
As corrosion weakens the structural integrity of metal aircraft and its parts, it could lead to costly repairs and significant safety hazards.
But according to Pokhrel, it will be difficult to find potential tenants. "I doubt companies are interested in flying them."
According to the notice, the minimum fixed monthly rental rate for the MA60 with registration number 9N-AKQ is $78,097.
In a power-per-hour rental rate, the aircraft rental cost is set at $700 per flight cycle or $563 per flight hour, whichever is greater.
The fixed cost is usually calculated per flight hour, or over a calendar period such as monthly, while under the hourly rental rate, maintenance, storage and insurance are all paid for by the renter, which saves the costs of the lessor if they were to repossess the property. The lessee now only pays rent when the aircraft is in operation.
Similarly, for the MA60 with registration number 9N-AKR, the minimum fixed monthly rental rate is $69,980 and an hourly rental rate of $704 per flight cycle or $564 per hour flight.
According to the notice, the Y12e with call sign 9N-AKS has a minimum fixed monthly rental rate of $29,416 and an hourly rental rate of $80 per flight cycle or $112 per flight time.
The Y12e with call sign 9N-AKT has a minimum fixed monthly rental rate of $32,886 and an hourly rental rate of $95 per flight cycle or $141 per flight hour.
The Y12e with call sign 9N-AKV has a minimum fixed monthly rental rate of $33,785 and an hourly rental rate of $101 per flight cycle or $151 per flight hour.
All of these five turboprops are in storage at Kathmandu airport and are available for inspection "as is, where is", according to the notice posted by Nepal Airlines on its website.
Only airlines with a valid air operator certificate and at least one aircraft in their internal fleet can bid.
Nepal Airlines, which is known for its abysmal service, grounded planes most of the time and management changes that make headlines three times a year, has been ruined by politics.
Each time a new management team arrives, it begins the process of replacing Chinese aircraft with new Western-made regional turboprops.
"But the management of Nepal Airlines is changing faster than its decisions," said a senior Nepal Airlines official. "There is no stability in the office, and the decisions are also unstable."