Pedestrian deaths skyrocket in 2020 despite sharp drop in driving during pandemic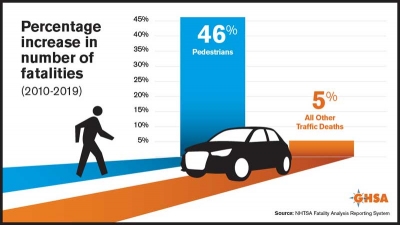 New data from Association of Governors for Road Safety (GHSA) The 2020 projects saw the largest annual increase on record in the rate at which drivers hit and killed people on foot.
What drove this surge? The likely culprits are dangerous driving such as speeding, drunk driving and drugs, and distraction, which plagued US roads during the COVID-19 pandemic, combined with infrastructure problems that have affected US roads during the COVID-19 pandemic. prioritized the movement of motor vehicles over walking and cycling for many years.
In March, the GHSA offered an overview of pedestrian fatalities in states and nationally for the first six months of 2020 based on preliminary data reported by state road safety offices (SHSOs) in all 50 states. and the District of Columbia (DC). The report warned that if there were fewer drivers on the road, pedestrians continued to be at increased risk of being struck and killed by a vehicle.
New Pedestrian Deaths by State: 2020 Preliminary Data Addendum, released May 20, provides a first look at predicted pedestrian fatalities for the full year using additional preliminary data provided by OHSS.
According to GHSA projects, 6,721 pedestrians were killed in 2020, an increase of 4.8% from the 6,412 deaths reported by SHSOs the year before. Factoring in a 13.2% decrease in vehicle-miles traveled (VMT) in 2020, the pedestrian fatality rate was 2.3 per billion VMT, a shocking and unprecedented increase of 21% from to 1.9 in 2019.
This projection represents the largest annual increase in the pedestrian fatality rate since the inception in 1975 of the National Highway Traffic Safety Administration's (NHTSA) Fatality Analysis Reporting System (FARS).
"The past year has been filled with so many deaths and losses as COVID swept across the country. As America gets vaccinated and returns to normal, we must treat pedestrian safety like the public health emergency it is, "said the executive director of GHSA. Jonathan adkins. "We need to step up our efforts to …