The average monthly selling price increases for the first time in five months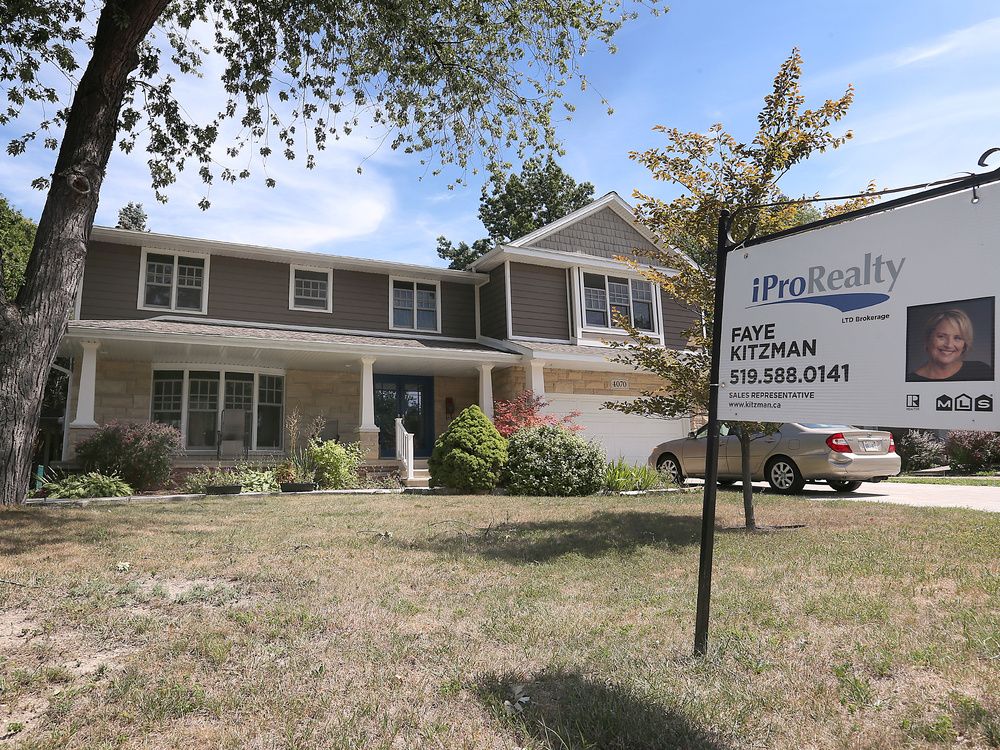 Content of the article
The volume of home sales in the Windsor area fell 42% and prices fell 4.87% in September compared to the same month a year ago.
Content of the article
The drop in sales and prices, which began with the Bank of Canada's interest rate hike last spring, saw the average monthly selling price fall from $723,739 in March to $523,928 last month. .
Content of the article
There were 403 homes sold last month compared to 694 in September 2021.
"I would say a more balanced market is happening," said Tina Roy, broker at TRU Real Estate Group.
"I don't expect prices to rise much in the near term. We adapt to what is happening.
"It's a buyer's market."
It wasn't all bad news for those looking to sell their homes.
For the first time in five months, the average monthly sale price increased by $3,294, as did the number of homes sold in September compared to August figures.
"It's too early to tell if we've bottomed or are near bottom of the price decline," said Damon Winney, broker at Jump Realty.
Content of the article
"A 42% drop in sales is a big number, but we have to remember that it was an overfed market. It just wasn't something that lasted.
New home listings (885) are down 15% and are at their lowest level in seven months, as sellers join buyers in taking a breather as the market tumbles.
Winney said evidence of a more balanced market was reflected in the consistency of the monthly median price. That figure only fell from a high of $525,000 in April to $510,000 in September despite a $200,000 drop in average monthly selling prices.
"Homes in the over $700,000 category are the most affected," Winney said.
"A lot of them are new builds where people are walking away from contracts.
Content of the article
"These high-priced homes are removed from statistics impacting the average monthly price, but the average median price has remained stable."
Of the 403 homes sold in September, only 65 were valued at $700,000 or more. There were only 15 sales over $1 million.
Nearly half (195) of all sales were between $420,000 and $699,999.
"It's not just the impact of interest rates there," Roy said.
"These sales are down because there's less confidence in those selling their homes to upgrade to these more expensive homes. Many people have had to adjust their prices, their homes are taking longer to sell and they are reluctant to take the plunge.
Roy added that the rising cost of living is another issue that buyers are considering.
Content of the article
However, Roy and Winney said buyers are starting to return to the market.
Winney said that over the past two or three weeks he has seen more pedestrians at open houses and more visits. During the summer, it was not uncommon not to get someone to watch certain ads.
"More buyers are coming, but they're still hesitant," Roy said. "They always show a serious lack of urgency.
"They take a long time to make decisions and it's so different from the last five years."
Also look at the rent crisis, asks a lawyer on the eve of the summit on housing affordability

Home prices in Windsor are the third cheapest in the province despite an increase in 2022

Housing prices in Windsor hit new highs in February
Winney agrees that consumers are still digesting what's happening in the real estate market. He expects activity to continue to improve as buyers realize prices have fallen enough to offset rapidly rising interest rates.
"Consumers are starting to realize their monthly payments aren't changing all that much now that prices have come down," Winney said. "It's become a bit of a washout where lower prices offset higher interest rates."
Both agents said they expect price changes in both directions to be more gradual in the coming months.
[email protected]
twitter.com/winstarwaddell