The most powerful air force in the world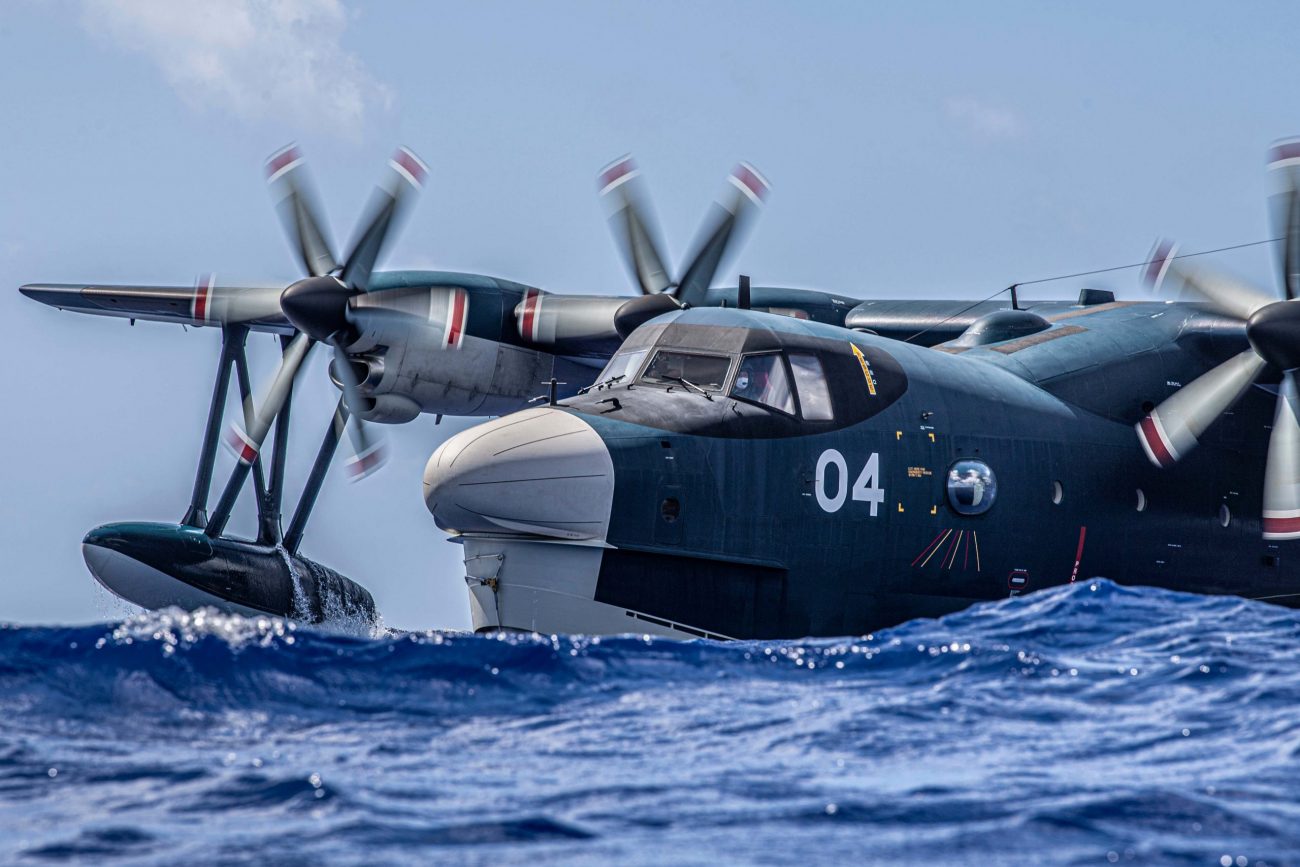 Only a few countries in the world have amphibious aircraft capable of flying and swimming. Even though the United States has the largest and most advanced aircraft fleet in the world, it does not yet have an amphibious aircraft.
During the Cope North exercise held recently, US Air Force airmen came close to the Japanese ShinMaywa US-2 amphibious plane.
An aircraft that can take off and land both on land and water is called an amphibious aircraft. Despite the fact that they cannot hover or land vertically, they can compete with helicopters for specialized operations at a much lower cost.
Since an airplane's wing is more efficient than a helicopter's lifting rotor, amphibious aircraft can travel faster and farther than helicopters.
On February 18, US Secretary of Defense Lloyd J. Austin said the new National Defense Strategy "will certainly address major threats to our security…It will also address major threats to the international order based on rules", in an indirect reference to China and Russia.
"We need 12 carriers. We need a strong amphibious force to include nine large deck amphibians and another 19 or 20 [LPDs] to support them. Possibly 30 or more smaller amphibious ships to support maritime littoral regiments…to 60 destroyers and probably 50 frigates, 70 attack submarines and a dozen ballistic missile submarines to about 100 support ships and probably in the future about 150 unmanned," (sic) Adm Gilday said.
The US Air Force service is believed to be seeking to develop an amphibious variant of the C-130 Hercules transport to serve special operations from littoral locations.
With a huge American presence in the Pacific and Indo-Pacific region and allies in the island states, handling an amphibious aircraft for contingency becomes imperative. Moreover, the growing tensions with China in the Indo-Pacific region and its aggression against Taiwan justify the United States having amphibious aircraft. It is relevant to mention here that China has the largest fleet of amphibious aircraft in the world, called AG600.
Airplane with the #USMC, @usairforce, @AusAirForce, @JASDF_PAO_ENGand regional allies conduct a flyover during Cope North 2022 at Andersen Air Force Base, Guam, Feb. 7.#CN22 is a multi-location humanitarian and disaster relief exercise. pic.twitter.com/HVw5TyZY6f

— US Marines (@USMC) February 11, 2022
Cope North 2022 took place from February 2 to 18 and involved approximately 3,500 soldiers and 130 aircraft from the Australian, Japanese and United States air forces. Air combat, large force deployment, and humanitarian assistance and disaster relief (HA/DR) exercises were all part of the exercises.
A Japanese Maritime Self-Defense Force (JMSDF) US-2 was seen operating in the ocean near Andersen Air Force Base Guam in an HA/DR training scenario, according to photos released recently by the US Department of Defense. .
JMSDF personnel worked with the US Air Force's HH-60G Pave Hawk, its primary combat search and rescue aircraft from the 33rd Rescue Squadron, based at Kadena Air Base in Japan.
Why is US-2 special?
The US-2 amphibious aircraft operated by the Japan Maritime Self-Defense Force is used for search and rescue, maritime patrol, firefighting, medical evacuation and logistics support missions. It was the largest amphibious aircraft in the world until China's AG600 first flew in 2017.
Four turboprops, an auxiliary engine and a boundary layer control (BLC) engine propel the aircraft. The BLC is the mechanism for maintaining lift at low speeds without stalling by regulating the layer of air surrounding the aircraft wing.
Due to the risk of hull damage from high-speed waves or currents, climb and approach speeds for a smooth takeoff and landing on water must be slower than on land. The US-2 can fly at speeds as low as 50 knots and as fast as 315 knots using BLC technology.
It has a range of 4,500 kilometers allowing it to carry out search and rescue missions to the southern tip of the Kamchatka Peninsula in the north, Mindanao in the Philippines in the south and the island of Minamitorishima in the east.
The US-2 can also land in rough water with waves up to 3 meters, making it one of the most capable seaplanes in the world.
It is powered by four 4,600 horsepower Rolls-Royce AE 2100J turboprops, has a cockpit with digital displays, can cruise at 300 miles per hour and has a maximum range of around 3,000 miles. A combination of blown flaps and an innovative flight control system allows it to perform short takeoff and landing (STOL) maneuvers.
US military watches 'flying boats'
The US Air Force Special Operations Command made it a high priority, sending Maj. Gen. Eric Hill to Japan to find out how the Japanese Self-Defense Forces operate aircraft without airstrips or aircraft carriers in the Indo-Pacific region.
In recent months, the US-2 has attracted interest from the Air Force as a whole. A group from the Air Force Special Operations Command (AFSOC) visited Iwakuni Air Base in Japan in November last year to learn more about the aircraft and its operations.
Iwakuni Air Base is unique as it is the only JMSDF air base that operates US-2, MCH-101 amphibious sea rescue aircraft used in both countermeasures and airborne mine transport , and OP-3C utility aircraft equipped with an image data acquisition system.

— Japanese Ministry of Defense/Self-Defense Forces (@ModJapan_en) October 24, 2020
Major General Hill of the US Air Force Special Operations Command explained that "the Indo-Pacific region has great strategic importance" for the Air Force.
"We are an incredibly capable air force, and while we still need the ability to land and take off from land airfields, the ability to turn the Pacific Ocean into a runway would increase our options to help secure our nation and interests. allied security," Hill said.
The US Air Force Special Operations Command plans to convert some of its MC-130 aircraft to be able to land on water, giving them the working title of MC-130J Commando II Amphibious Capability (MAC).
Japanese Maritime Self-Defense Force ShinMaywa US-2 floats in the ocean as US Air Force HH-60G with the 33rd Rescue Squadron hover nearby during exercise Cope North 22 on the island of Tinian on February 14. pic.twitter.com/K8LmjNr2D9

— Ryan Chan 陳家翹 (@ryankakiuchan) February 23, 2022
The aircraft's pontoons would be removable, allowing the aircraft to land on land as well as at sea. The US Air Force also wants the system to be easily interchangeable with similar aircraft in US inventories. Navy and Marine Corps with only modest modifications, according to National Interest.
Although the United States possessed many amphibious aircraft at one time, the function fell into disuse as the country expanded its footprint across the Pacific. Amphibious aircraft are likely to return with a vengeance, given the increased focus on the Indo-Pacific region.
The MC-130J MAC may not be a true seaplane like the US-2 or the even larger Chinese AG600, but it will be amphibious, meaning it can land on a runway with its floats in spot, according to The Drive.
Combat search and rescue is one of the roles under consideration for the C-130 seaplane, which has unique needs in the Indo-Pacific theater, where crew may need to be retrieved from the water on long distances – far beyond the current fleet of HH-60G Pave Hawks, for example.
AFSOC plans to demonstrate operational capability of amphibious MC-130J "in just 17 months" https://t.co/Z5A15C1Ooj @usairforce pic.twitter.com/TDv6wWwRyg

— Janes (@JanesINTEL) September 20, 2021
The Air Force is currently considering future CSAR platforms, including amphibious, vertical take-off and landing, and potentially stealth capabilities. There is also a sense of urgency around AFSOC's future amphibious aircraft, with plans for a 17-month operational demonstration of the MAC concept as revealed in September last year.