Wait 6 Weeks for Surgery After Covid, Says ICMR | India News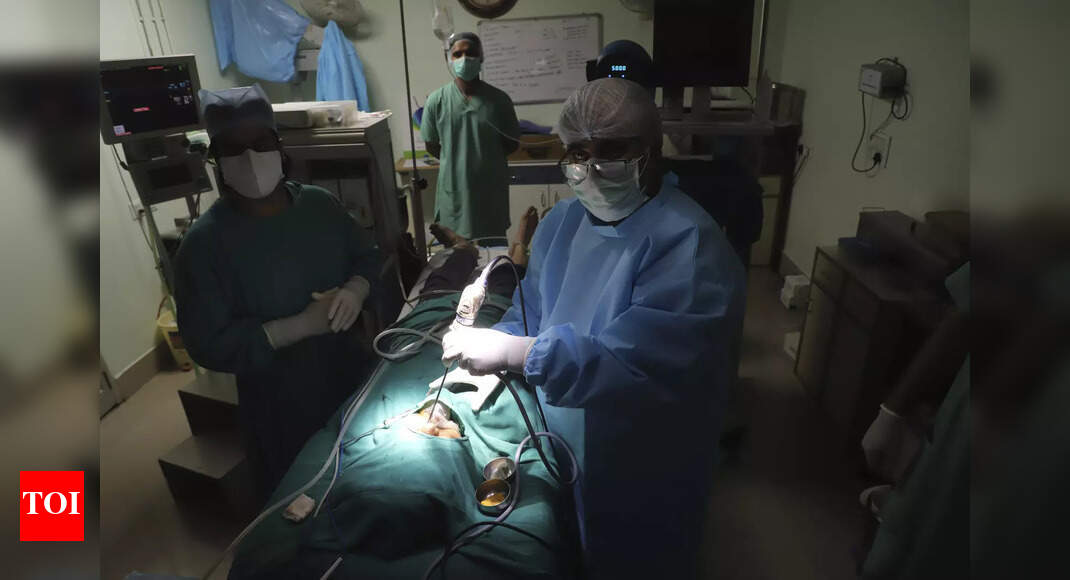 PUNE: Recovered Covid patients opting for elective or elective surgeries are urged by surgeons to undergo repeated RT-PCR / antigen testing as part of preoperative protocols. However, experts from the Indian Council of Medical Research (ICMR) and the National Covid-19 Task Force advised against repeating Covid testing within 102 days of recovery, citing the presence of 'non-viable dead viral particles' that remain in the body. for a certain time.
These virus remnants cannot transmit the disease, but can cause a false positive test result. Experts said surgeons should consider performing elective surgery on a patient recovered from Covid only after six weeks of recovery to ensure faster healing and convalescence after surgery. "At present, re-infection with Covid is only confirmed after 102 days of diagnosis. It is therefore not advisable to repeat the test within this period of time, "said infectious disease expert Sanjay Pujari, member of the working group.
"In addition, a minimum period of six weeks before elective surgery is recommended for patients recovered from Covid who were exhibiting symptoms. As for emergency surgeries in recovering or cured patients, they should be performed immediately with the necessary precautions, "Pujari said. He added, however, that if a patient experiences a recurrence of Covid symptoms, re-testing and consultation with an infectious disease expert may be considered.
Experts said the preoperative risk assessment of a patient recovered by Covid should be "individualized", taking into account surgical intensity, co-morbidities and the benefit / risk balance if the procedure is delayed. "Residual symptoms such as fatigue, shortness of breath and chest pain are common in patients who have had Covid. These symptoms can be present for more than 60 days after diagnosis, "Pujari said.
Covid can also have long term effects on heart function. A thorough preoperative evaluation, scheduled well before surgery with particular attention to the cardiopulmonary systems, should be considered in patients who have recovered and especially in those with residual symptoms, according to American Society guidelines. of Anaesthesiology (ASA).
Poona Surgical Society President Sanjay Kolte said: "Retesting patients recovered within 102 days of being diagnosed with Covid only adds to the anxiety and is a waste of money. Importantly, surgeons should adopt universal precautions during elective surgery rather than insisting on RTPCR reports. "
Suggested waiting times
Four weeks for an asymptomatic patient or a person who has recovered only from mild, non-respiratory symptoms
Six weeks for a symptomatic patient (including cough, shortness of breath) who did not require hospitalization
Eight to 10 weeks for a symptomatic diabetic, immunocompromised or hospitalized patient with Covid
Twelve weeks for a patient admitted to intensive care with Covid-19
No new Covid test within 102 days
People who have recovered from Covid do not need to have another RT-PCR test to check if they have been re-infected
It is possible that a swab test will return a positive result after it detects non-viable remnants of the virus, even after the infection has cleared the system, an ICMR study said.
Nonviable virus remnants are dead particles that can no longer infect or transmit disease
But if a test is positive 102 days after the first episode of Covid, it can be considered a case of a new infection, provided there has been a negative molecular test in the meantime, the ICMR said.